Contact Us
Add: No.198,North Lishan Road,Tianqiao District,
Jinan City,Shandong Province,China.
Tel: +86-531-88613858 (Switchboard)
Fax: +86-531-88963858 (Switchboard)
Manager Wang +86-13969020710
Manager Qin +86-13656417333
Postal code:250131
E-mail:sales@jiayuchemical.com
URL:www.jiayuchemical.com
Sort >> Scale and corrosion inhibitor
1H-Benzotriazole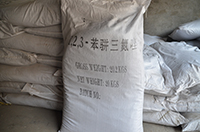 Chemical name:1,2,3-1H-Benzotriazole,
Chemical formula:C6H5N3
Molecular weight:119.13
Feature:White needle-like crystals of pure strains ,Melting point:98.5οC,boiling point:204οC(15mm),slightly soluble in water, soluble in alcohol, benzene, toluene, chloroform and other organic solvents.
Technical requirement:SH397-92 standard
Quality indicators:
White crystal or flake, granular, needle-like, powder
Use: Mainly used for metal (such as silver, copper, lead, nickel, zinc, etc.) antirust and corrosion inhibitor, widely used in antirust oil (tallow) products, used for the vapor phase corrosion inhibitor of copper and copper alloycycle water treatment chemicals, automotive antifreeze, photographic antifogging agent, polymer stabilizers, plant growth regulators, the lubricating oil additives, ultraviolet absorber. This product is also available with a variety of scale inhibitor, biocide agent used in conjunction with, in particular, the inhibition effect of the closed-loop cooling water system is very good.
Packaging and storage:Net weight 20 kg plastic bags. Moisture, moisture, ventilation and dry place.